School Uniform
Socks
We are the most Relevant & prominent school socks manufacturer in Delhi, India. We manufacture all types of school socks. Our school socks are comfortable, skin friendly and durable. We are capable of designing school logos as per client requirements. Our school socks are available in different designs, sizes and colors to suit every need of school students from grade 1 to 12th class students. We also provide various color ranges of PP school socks, Cotton school Socks, Cotton PP school socks, Spandex school socks, Woolen school socks, and Cotton lycra school socks in perfect match with school uniforms. We have many lists of government schools & private schools who recommend our school socks for their uniform requirements. Our main goal is to fulfill the demands of clients. We are engaged in manufacturing a wide range of school socks. Clients can purchase them from us in various designs, patterns, and sizes.
School Socks Manufacturer in Delhi
Our firm is well-known in the market for offering a wide range of School Socks for our esteemed patrons. We are school socks manufacturer manufacture all types of school socks. These schools socks are available in the market in different shapes, sizes, patterns and designs at very affordable rates. The offered school socks are designed to worn inside the school shoes. Our supplied school socks are fabricated using premium grade breathable fabric and high-quality yarn. so that it provides comfort and relaxation to the wearer..# school socks manufacturer in Delhi
FEATURES:
Supreme quality.

Fine finish.

Comfortable fitting.

Attractive design.

High elasticity.

Cost Effective.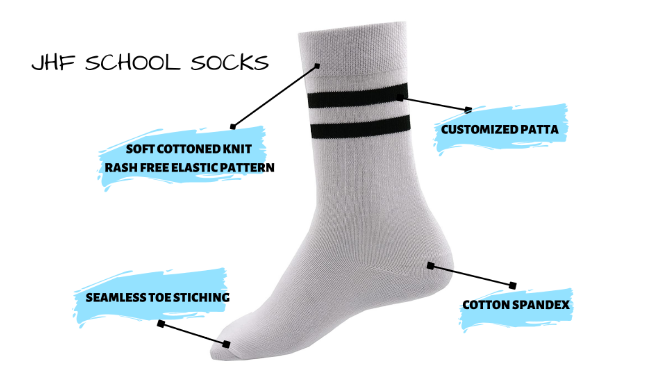 TYPES:
School socks manufacture with color strips.

Round strips school socks.

Plain School uniform socks manufacture.

Extra stretchable school uniform socks.

School socks with white stripes.

Printed with school names.
Leading School Socks Manufacturer in Delhi Shastri Nagar
We are a professional school socks manufacturer in Delhi, India. we provide a complete range of products like knee high school socks, long school socks, ankle school socks, etc. We can customize the design of your choice according to your requirement and make it look attractive with additional colors or customized work or any logo that you want on the bottom side of your school socks. Our customers can avail our services at affordable prices.
Experience The Best School Socks Manufacturer in Delhi
We have a huge experience in this field, we have been manufacturing school socks for the last 20 years and we have built a strong reputation in Delhi NCR market. Our company has achieved excellent success due to our commitment towards quality and customer satisfaction. School socks are manufactured by our skilled team of workers in a well-equipped manufacturing unit with all state-of-the-art machines & tools.
The Best School Socks Manufacturer in Delhi
We are the best in the school socks manufacturing industry and we have excellent customer service to back this claim up. Our customers would agree that they get great value for their money in terms of quality products, pricing, and delivery times. We offer a wide range of designs for both boys and girls with different colors, patterns, sizes and designs to choose from. We have designed these products keeping in mind the needs of our customers so that they can easily find what they are looking for.# school socks manufacturer in Delhi